---
Hi all,
Please note: that most orders placed after Monday 4th Dec 2023 may not arrive before Christmas. Given 2-3 week delivery for overseas products.
WE WILL NOT SEND ANY TEXT MESSAGES FOR TRACKING TO YOU. (watch for scam messages atm)
Local Stock - fast delivery via Aus Post. See the menu.
Current Delivery times of Overseas packages
Current overseas delivery times have improved of late.
Australia - most now around 2-3 weeks
USA, UK - approx 2 weeks
Canada - variable 2- 4 weeks
Europe - approx 2 weeks
NZ - still slow 3-4 weeks
Exceptions - small and inexpensive items.
Regards
Rob & Liz W
19 Jun 2023
---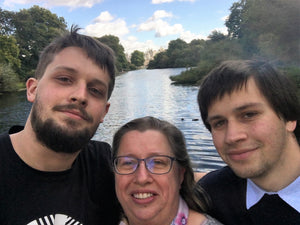 About us
We are a locally owned and run online store. We have been in business since 2006. We aim to assist customers purchase products not readily available locally.  We have recently closed our Bricks and Mortar store and now run online exclusively.
We are a family company based in Queensland, most of our products we import on demand and come direct to you from the factory to keep overall costs down.
---
Journal for Pancreatic Cancer Day
---
Feedback on products recently
As described would use again Latch hook DIY rug kit preprinted "Tiger" option 3 sizes
Well packaged!! Great communication with seller! Thank you so much!!! :)Latch hook DIY rug kit "Snoopy on the Moon" approx 50x35cm
Very happy. As Advertised. Arrived early and packaged very well. All good. AAAAA+++++Latch hook DIY rug kit "Paris Eiffel Tower" approx 58x86cm
Absolutely love itCustom Flannel Fleece Throw Blanket with Personalized Photo suit Gift
I absolutely love item thank you 😊 arrived 21/12/20225D DIY Diamond Art Painting Kits -Full Square Drill "Baby Yoda - Star Wars"
Loved it. And thank you for the fast shipping5D DIY Diamond Painting Make Your Own Diamond Painting
Received thank you well worth the money thankyou5D DIY Diamond Art Painting Kits -Full Square / Round Drill "Freddie mercury.