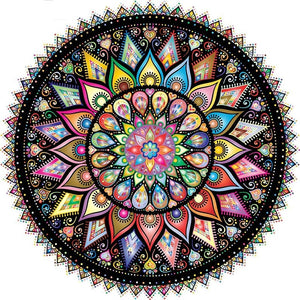 5D DIY Diamond Art Painting Kits -Full Square Drill "Circle Mandala"
Need a bigger size? Just contact and we can sort it out for you.  
We are a family company and import products on demand direct to you from an overseas factory to keep overall re-posting costs down.
We offer free shipping on almost all items. Refunds on faulty goods or replacement of missing items.
Our suppliers will carefully make up each order. To achieve the best outcome, that order typically take 3- 7 days to produce.
We do support worldwide shipping. It can take up to 21 days to Australia and about 14 days to US, Canada; other countries will take up to 21 days. In total, we expect 3 - 4 weeks for delivery.
Description
5D Diamond Painting Art is easy to use, even Kids Can Do It, great for chillin out, or for people who are incapacitated, sick or bed bound. 
No mess, simple to do, follow the codes to complete the pattern 
Everything you need is included. It is like Painting with Diamonds.
Can we suggest a frame if you would like to display the finished product, or a bead box to help you stay organised or a light box to assist with seeing the codes? Check out our accessories section.
Why is it called 5D Diamond Art? It's about the facets on the diamonds. 5D means more facets than 3D. 5D diamonds sparkle more than 3D diamonds.
Some 5D diamond painting designs offer round or square drill beads. Others just 1 type is available.
Handy hint - The larger the design you choose, the more detailed your image will be.